Mantra lama Tsong khapa preview CD available. Book it now
October 22, 2016 in Blog, Music by the Emeralds tree
Preview CD Mantra Lama Tsong khapa of longevity
Hello everyone, we are working on delicate and dedicated projects, very slowly.
The AoM musical duo that I and William Vidale created, gives me a lot of satisfaction, I regret not having a link to which direct you talking about my "partner", but he is one of the most antisocial beings I have ever known. Seriously.
However, I am writing to inform you that, after several requests and inquiries, we are packing up our first CD!
We are happy in a stratospheric way and I really hope to infect you all with happiness in these written lines.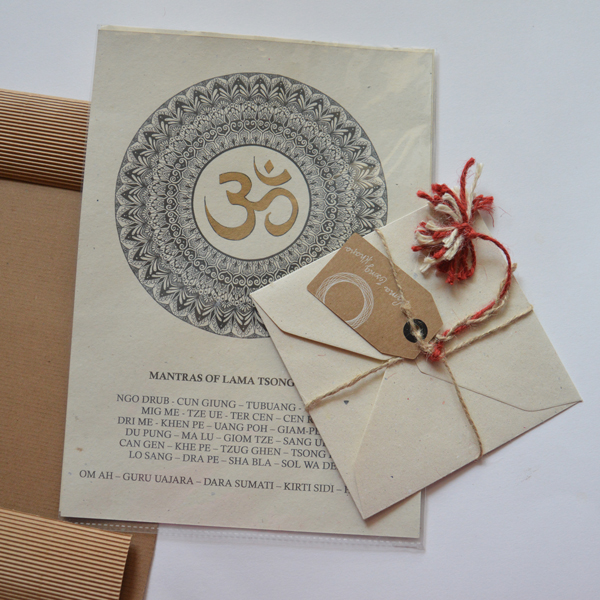 It is a single very special to us, that is our version of the Mantra of the longevity of Lama Tsong Khapa, directly conceived, created and registered for deep meditation.
CONTENTS OF THE CD:
Mantra of Lama Tsong Khapa 


Didgeridoo tuned to 432 hz, gongs and singing bowls, overtone singing (or bitonal)

Music
Didgeridoo tuned to 432 hz, gongs and singing bowls, to accompany your Mantra, Your Voice.
20 minutes of music and vibration to listen through headphones to capture every little, tiny, sonic nuance.
You can abandon yourself to listen and benefit from deeper relaxation or take part in the chanting of the Mantra.
the MANDALA contained inside of the precious package, it is a GIFT. The original print of an artistic creation, hand-colored.
You can frame it and hang it in order to find yourself reading the Mantra more often and to benefit from its positive vibrations.
You can keep it with you for the chanting of the mantra, his golden Om will increase your concentration!
HOW TO SING A MANTRA:
First of all, I want to specify that the musical part created to accompany your singing, it's not the music that accompanies the mantra chanted by us, this is not a karaoke …! We are professionals! It is a music where you can invent your melody, free your soul, listen to your heart.
A Mantra is sung by repeating the words as you find written, not their translation. it is important to reproduce those sounds because the effectiveness of a mantra is a combination of frequency and vibration, a mechanism that can open new doors within You.
Some mantras are very powerful and Your Practice could turn out as an intimate and profound experience.
YOU are Your Own Magic.
The preview sound files (the classic minute of listening) will be posted here the work is finished.
Book your CD now
The CD will be available very soon and we already have several bookings, if you want to book your copy now at 15 €, write us with your shipping address. We will calculate the shipping charges for sending.
Write here  → info@theemeraldstree.com
Worldwide shipping available.

When you have your CD, you should not copy it for distribution, in fact, the copy will not contain all the frequencies contained into the one you received, obtained directly from the Original.
If you want to make a gift contact yet.
Thanks for your support, neighbors in this journey.
Ps the artist who painted the mandala is Ilaria Gaccetta (my wife)
Music Therapy Healing Music
Questo post è disponibile anche in: Italian