PRUNUS Didgeridoo Masterclass
January 20, 2014 in Blog, Didgeridoo by the Emeralds tree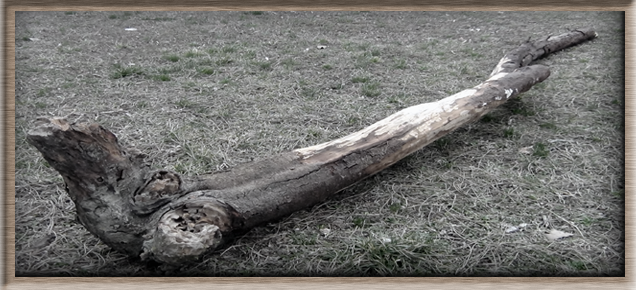 PRUNUS
didgeridoo Master Class
Prunus is a creation of 2013, an important piece, imposing and majestic. Does not go unnoticed. is the trunk of a fruit tree, a variety of plum called "ramassin" of our hills. Preserves the buried part of the earth and all its beauty.   Has been a long and meticulous work, but we are proud to show it and present it to those who have not yet had the chance to see it. Prunus is not for everyone. First it is not a comfortable travel friend, is long and heavy, requires space and support. Even the stand has been built specially for him, following the natural curvature. is a didgeridoo by the deep and powerful sound, but with an incredible playability, almost comparable to a small didge.
Prunus is a Master Class didgeridoo from multiple sound possibilities, allows to space between the different tones and vibrations, Prunus is a wise old man.
Wood: Plum ramassin
Length: approx 232 cm Weight:
Mouthpiece: internal 29 mm exterior 45 mm
natural bell: 15 cm x 16 cm
Finish: for the mouth and for the bell pure epoxy resin alimentary, interior finished with organic oils and natural waxes, shellac and balsams for exterior wood.
SOUND: Definitely voted to acoustic, because of its important sound,
a jewel for the direct music therapy, for the intense physical vibrations it transmits. In the 'therapeutic use, the continuous toot, takes waves and sound power difficult to reach with other didge.
TONE: Naturally tuned in C (432 Hz) perfect tone for meditation.
effective frequency detected Do (2) 64.217 hz.
Sacred tone in the perfect law of 8.
Playing the C 256Hz, for the principle of the harmonics (according to which, at the sound are added multiples and submultiples of frequencies), even the C of the other octaves begins to vibrate in "sympathy" echoing naturally the frequency of 8hz. That's why the chorister at 432 oscillations per second is called "diapason scientific." The C 256, multiple of 8hz (sonic base pillar) is the frequency of DNA replication.

Association First Chakra MULADHARA ,
The center of the root that is responsible for the evolution of consciousness nature (prakriti).
It is the chakra from which consciousness enters the physical body at birth.
It is the chakra which are absorbed the energies of the Earth and the tensions in excess downloaded through the sexual act. Are included in this sphere the basic needs of the individual related to survival.
Element: Earth
Planet: Saturn
Color: Red
Sound: UM
Animal: animals related to the earth element for strength and weight, ox, bull, elephant
Stones: ruby, coral, magnetite, garnet, jasper, onyx, obsidian, tomalina, agate …
Corresponding body: Physical Body.
Powers traditionally associated with: Control of the mind and breath, knowledge of Kundalini, the energy earthly and material, knowledge of past, present and future.
Function: allows the individual to stay in touch with Mother Earth to survive. Stability, ability to establish itself in the material plane, prosperity, in every sense. It produces a sense of physical and mental harmony in relationship to nature; is related to sexual vitality, adaptability and survival in the world, satisfies the needs of primordial such as food, water, air, refuge.

1 Toot B frequency 121.33 Hz Association 7th chakra SAHASRARA , the crown chakra 

2nd Toot G       3rd Toot C #
Sound Test: Prunus, the Magic of – by The Tree emeralds. For listening, I recommend the use of headphones.
DIDGERIDOO currently AVAILABLE
Price: DIDGERIDOO not available.
Care for this instrument: as with any instrument made ​​of wood, it is important to keep it away from extreme changes in temperature. This didgeridoo has already been treated with organic waxes that ensure total impermeability to bacteria, simply rinse quickly with water and mild soap as needed, perhaps adding a few drops of essential oil. Maybe in a few years it will be necessary to rinse the internal with oil (as tung oil). For more information or questions, please contact us. info@theemeraldstree.com
DETAILS OF DIDGERIDOO
Prunus domestica ramassin. coming from our hill, Govone. Italy.
It 'a plant of ancient Piedmontese plums, really delicious. A colder season has dried many fruit trees, I chose to take care of this old friend of snacks. The wood of prunus is a wood hard and resistant, so much that it is recommended for the construction of the handles and tools. is unusual to see it become a musical instrument, especially of this size.
Prunus personal ratings
It 'been a challenge that has tested our ability, but it was an honor. Once completed, in fact, I had one certainty: a piece like this, is something unique, unrepeatable. The sound is so strong and deep, to vibrate into the walls, windows, chandeliers, in everything that surrounds me when I play it.
It's amazing, one of those didge that I like to expose and play, to introduce didgeridoo who has never heard of.
His immediate playability, simple and intuitive, makes it suitable for anyone, but who has a good technical preparation will surely find it more rewarding. The person to whom it is intended, is definitely someone who will use it to vibrational therapies, meditation or for live music. Someone who will become his friend, discovering more sound characteristics and possibilities.
As I wrote in the main description, it is not convenient to carry for a walk … it's heavy and claims, rightly, its space. We have built specifically a stand, which I will deliver along with the didgeridoo. Ship it is definitely possible, maybe a little more expensive due to the weight and the added stand . 
My invitation is to come and visit us in person, moreover the Langhe and Roero, Piedmont hills, have always been a destination for tourists, for the cellars of fine wines, both for food. If you would like information, please email me.
The mouthpiece
I dedicated an article to the special processing that I perform on some of my instruments, using a mix of minerals and pure epoxy alimentary resin. I perform this work manually, smoothing and shaping the crystallized form in every detail. Refer to the article.
Link The Emeralds tree details and particulars

Below, the photo gallery.
Because of the size of the didgeridoo, the guilty cold winter and our poor preparation stage, the photos were taken in the home environment and have not undergone any photo editing. I hope you enjoy.
GALLERIA Prunus didgeridoo masterclass
Questo post è disponibile anche in: Italian