Pinus Pinaster deep didgeridoo G 432hz
August 30, 2015 in Blog, Boutique, Didgeridoo, Featured by the Emeralds tree
Pinus Pinaster comes from a large and prestigious trunk of Maritime Pine, he grew up in the middle of my garden. A few years ago was cut to make room for other oaks and pines equally impressive, but, while the pine was tied and the work went on, I knew already that I would not have lost it. I knew that the tree would become a huge and beautiful didgeridoo. I just had to take care of it and wait, the time would have done his part, and I would have done the rest. The seasons have followed while he reached his perfect drying, until the day in which we stood, ready, either, for our concert, for our new transformation. Wood, hands and heart.
PINUS PINASTER DIDGERIDOO
WOOD: pinus pinestae
LENGTH: 262 cm
BELL: 13 cm
FINISH: the internal mouthpiece in quartz and pure food grade resin. Inside and outside treated with vegetable oils, prestigious and organic.
DETAILS: during  inner excavation I detected and isolated 4 precious drops of resonance. I exalted with small reliefs the natural grain of the wood, both inside, and outside.
TONE': G low tuned with diapason A= 432Hz (430,6-432,6 hz)
……………………..
SOUND: Pinus Pinaster is definitely a concert didgeridoo, for sound, resonance and playability. You can get dynamic fluidly despite its size, like an instrument shorter. The sound is warm and enveloping, resonant and clean.
SOUND FILES: I chose to publish a Jam / test of Pinus Pinaster, to make you the idea of the sounds, and to let you see the use that I do. Soon I will publish more detailed sound files, or if you have special requests, please email me as always.
FOTOGALLERY I want to clarify that I am not a photographer, the images we have taken by me and my crew (my wife and my daughter), in the magical setting of the castle of Govone. For me it is important that you understand the details from the photos, the size, line and beauty, every cm of its 262.
Pinus Pinaster detail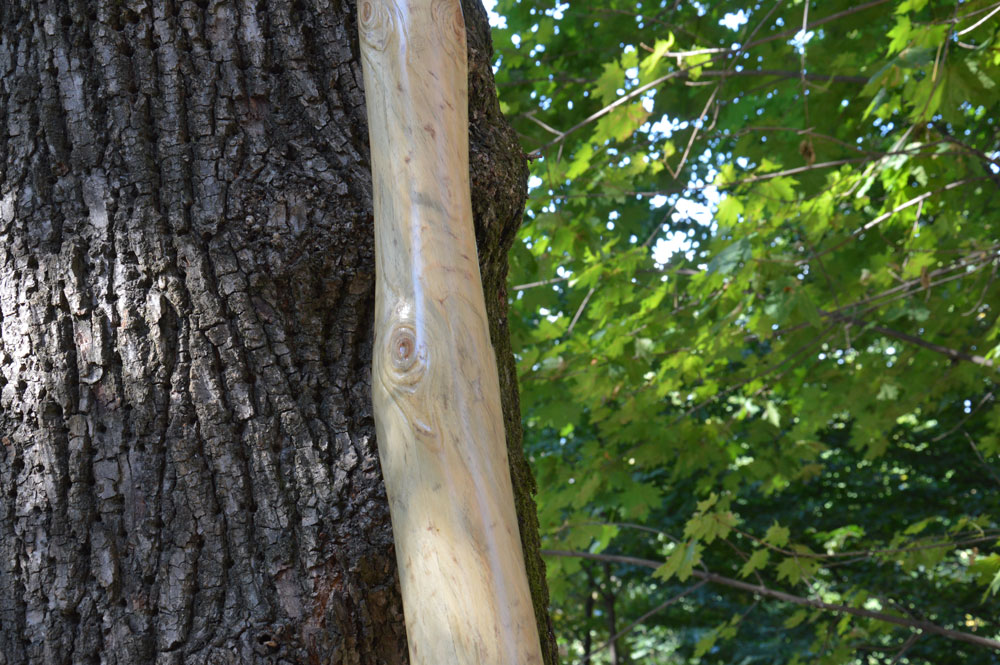 Pinus Pinaster detail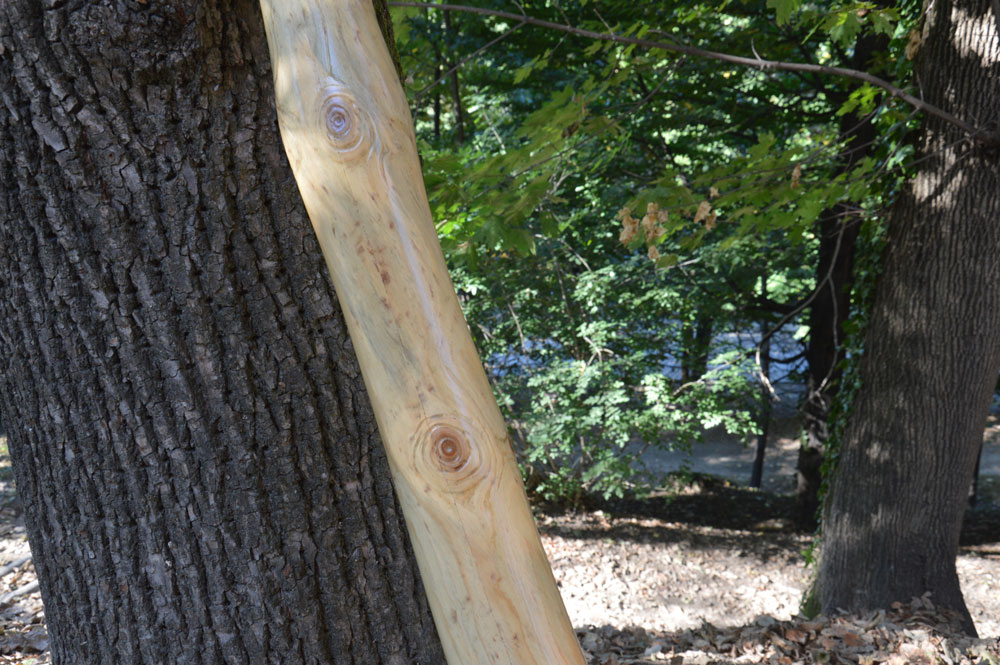 Pinus Pinaster detail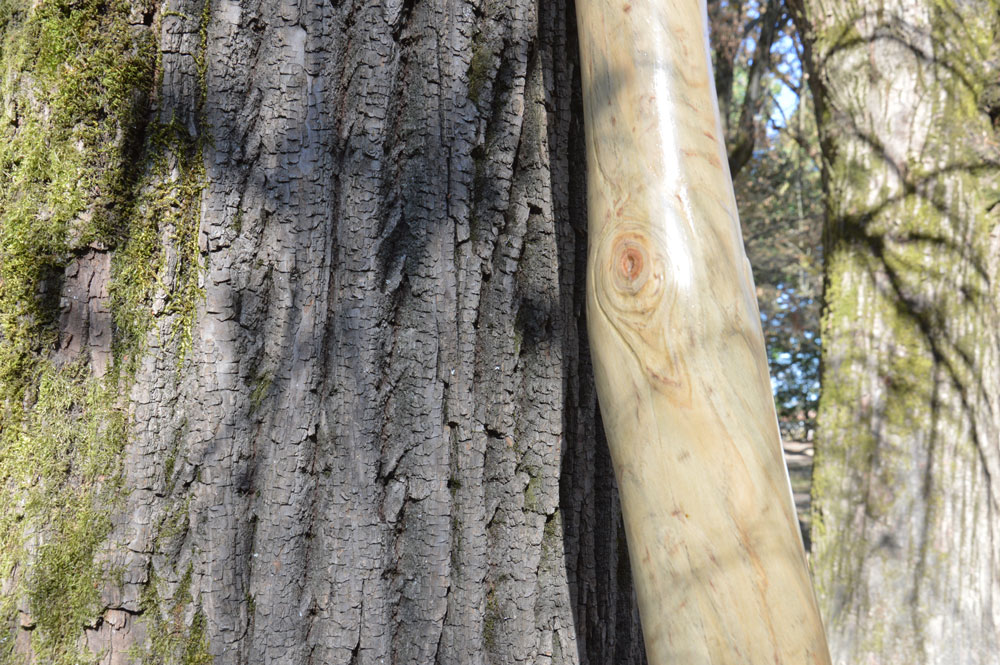 Pinus Pinaster and Daniele
Pinus Pinaster and Daniele
Pinus Pinaster detail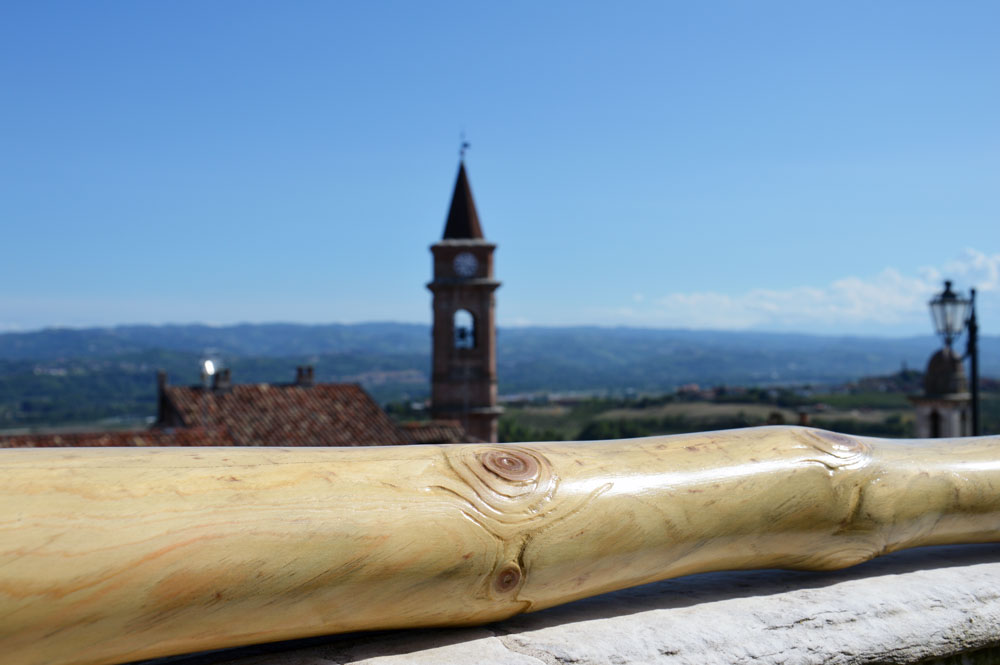 Pinus Pinaster the bell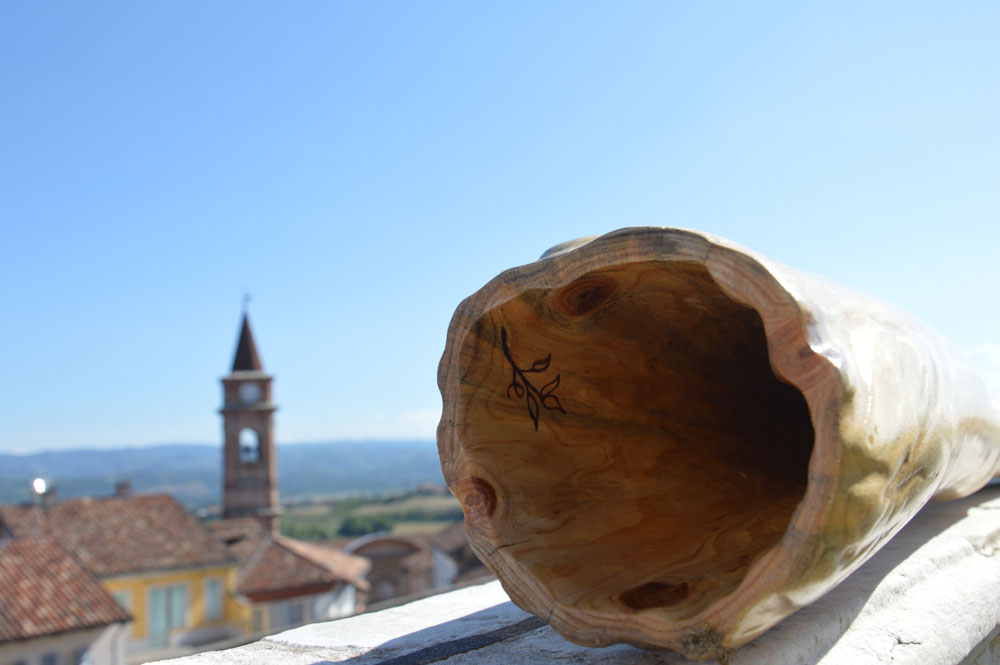 Pinus Pinaster mouthpiece detail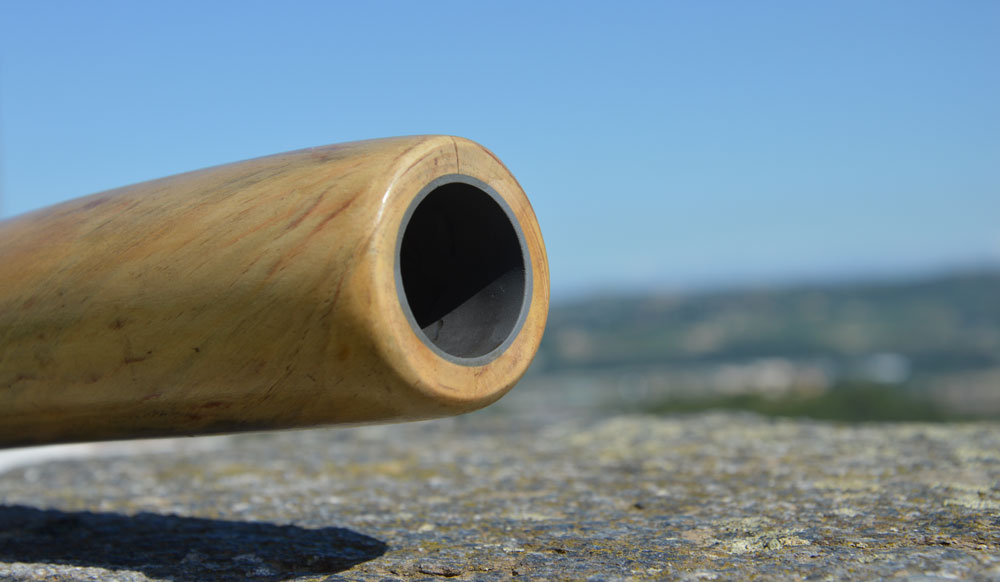 Pinus Pinaster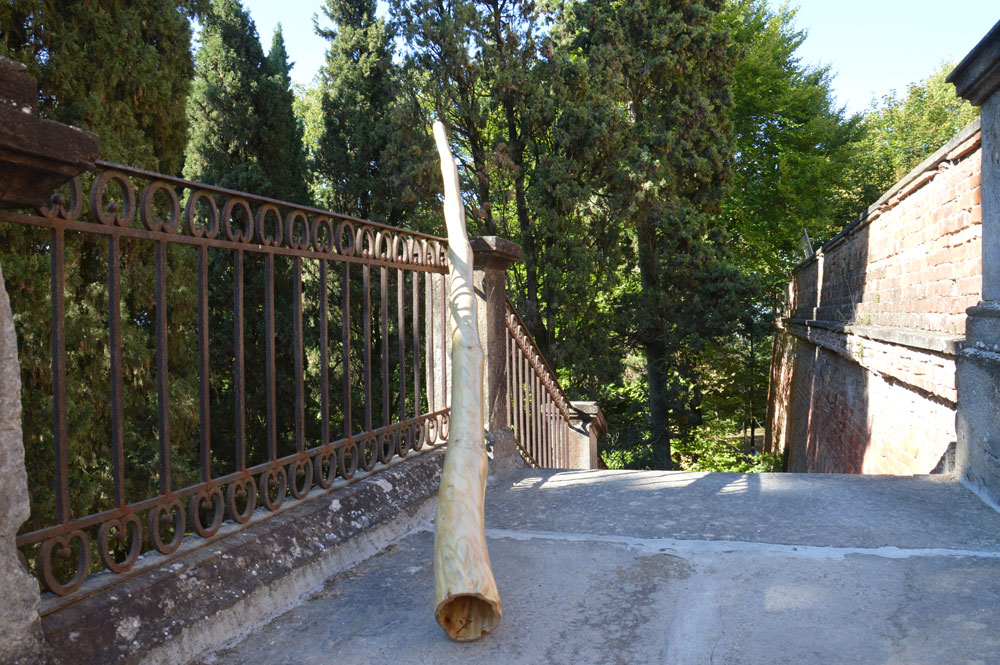 Pinus Pinaster
Pinus Pinaster detail
Pinus Pinaster the bell
Pinus Pinaster detail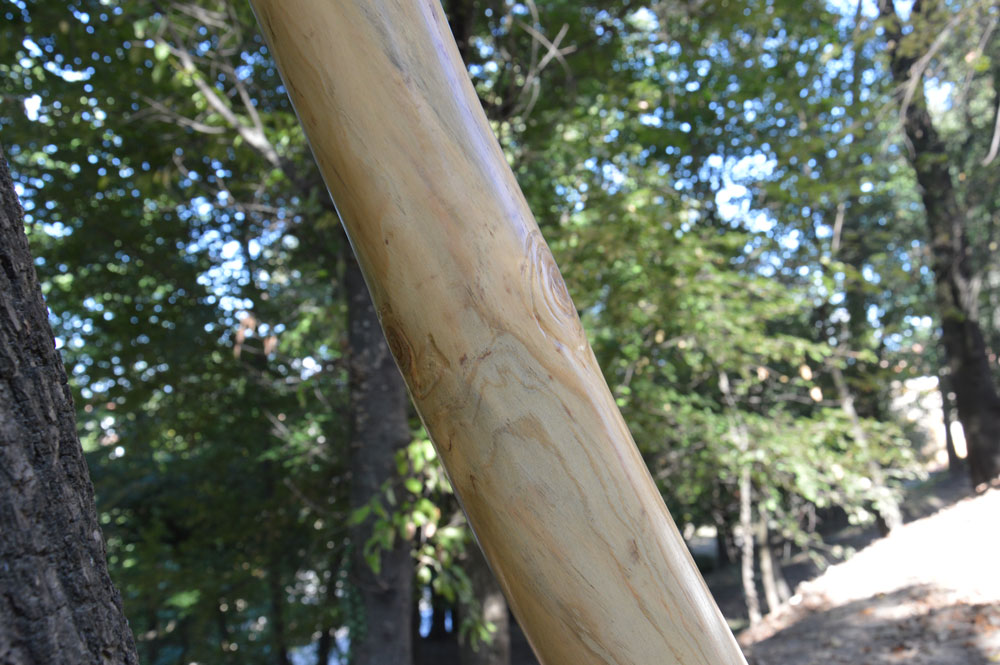 Pinus Pinaster and my troupe at work
PRICE: this time I would like to explain my interpretation about the price that I decide for my didgeridoo, then I will write an article on purpose to explain my "political". I have tried so many great instruments, of big names and well-known, I know how should to play a Mr. didgeriddo to fit into a certain category "elite". If I looked the market value of didgeridoos as Pinus Pinaster, its sale price varies between 1,200 € and 1,500 €. Who tried Pinus, confirms.
I sell it at 750 €. I choose to sell my didgeridoo in a fair and supportiv emanner, I do not buy wood from afar, I sell my instruments directly without intermediaries nor increases, using the best pure resins, oils, organic, not as many who go down with petrolatum…I take care in detail what to me is an act of love towards the instrument. I measure the frequencies also through radionics. Why sell it for 750? Because I'm not a famous manufacturer, nor a didgeridoo musician known worldwide, therefore, to today, I can not use my fame nor glory to motivate that value "of market"…(to today, then maybe I become = P) mine is a different kind of value, added value, and solidarity. Solidarity with the musicians, who like me (I play several instruments since so many years) can not afford quality instruments because they are too expensive.
DIDGERIDOO €  750    For the purchase and transport costs, write your name and your address on info@theemeraldstree.com you will be contacted with the details for payment and shipping in the shortest possible time. Payment by paypal or bank transfer.
SHIPPING: when we receive the payment, we pack it and ship it. For further information, please contact me. deep didgeridoo 
Further information: The measurement of Pinus Pinaster with Bovis biometer gave a value of about 14,000 UB, with the instrument at rest.
Ciao! deep didgeridoo 432hz
Questo post è disponibile anche in: Italian