the Breath of the Elm wood
Spiraculum Ulmum, another beautiful piece of elm wood kindly allowed by our friend, Carlo the carpenter. He kept this piece to make it something special, elm wood is his favorite, so we thank him for choosing us.
Spiraculum Ulmum is a particular Didgeridoo, to which we are very fond of. He stands there, erect and proud, vested with his shade of red earth, to pay homage to every sunset. Rich in folds, details, secret veins, spiraculum Ulmum is a fascinating didgeridoo.
Spiraculum Ulmum does not have those characteristics that draw your attention, its beauty is more subtle, made ​​of looks. To see it you have to go through every red vein, slip between the folds of its dress, lean out from the natural opening on his bell, to see its beauty you must be the wind blowing.

Wood: ELM Wood
Lenght: 188 cm     Weight: 2,9 kg
mouth: internal 30 mm     bell:  diameter of oval 22 cm x 9 cm.
TONE':  Eb2
Frequency:
average frequency 78  Hz /effective frequency 77,78 hz
Brain Frequency Range 72-90 MHz
Normal Brain Frequency 72 MHz
Human Body 62-78 MHz
Human Body: from Neck up 72-78 MHz
1° TooT  Tone C3  frequency 130,8 Hz
2° TooT Tone Bb4 frequency 466,2 Hz
Correspondence Chakra: between the 2nd and the 3rd Chakra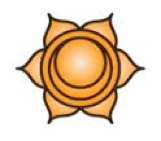 2° SVADHISHTHANA
Control over the element Water. Psychic powers. Intuitive knowledge. Destruction of impure characteristics.
Function: creativity, understood both physically and mentally and spiritually. A block in the functioning of this chakra makes us lose the natural flow of creativity that belongs to every living being.

3° MANIPURA
Fire, mental, intellect. Victory over fear of Fire. Immunity from disease. It 's the Chakra of the individual will, and of the efficiency of the charism. the poor functioning due to low energy, shyness, the continuous need to resort to exciting or stimulating.
Sound: wobble specialist, Its nature and its excavation have increased the backpressure, the result is shrill and harmonious, fast and intriguing. Suitable for freestyle, drumbeat and wobble. The voices sometimes are transformed into spatial sounds.
"When I designed this elm wood, I thought to get a didge particularly resonant in the bass. The excavation and the final result was a surprise. The breath of the elm is the didge freestyle. "The wobble specialist" as I like to call it. The back pressure is high, the air pressure needed to obtain powerful toot truly minimal. Once you understand its nature and its fast mouth, playing it you realize that there is NOT the 'typical fatigue in the execution of very fast rhythmic and "didgebeat." The voices are expanded in the huge bell inside the excavation up to almost half of its length. The vocal sounds out of tune (overtones) take colors and waves that at times remind me of the Moog synthesizers of the 70s. I classify this as a professional freestyler didgeridoo ideal for modern techniques, varying tones, drop octaver (for specialists)
Daniele Pasquero"
Finish: Douglas, treated with shellac.
Price: didgeridoo not available.
Further INFORMATION info@theemeraldstree.com
Listen to the Sound.
VOCAL
We're going to share very soon  the files related to sound
Pictures
Questo post è disponibile anche in: Italian