Tropical nux didgeridoo
April 24, 2015 in Blog, Boutique, Didgeridoo, Featured by the Emeralds tree
This beautiful wood has come so far to find me, a friend brought me thinking I might be interested, and it was like a bolt from the blue. <is Tropical walnut > He told me. I thought about the warm places, the being different, being strangers.
I thought about the magic of the meetings, the covenants, the crowded places, to the steps away, to the voices, to the distance, to the peace.
<has more than a hundred years!> I felt a child.
Carve it was how to hack the Stone.
Tropical nux tonight is in my study, in its sinuous lines, soft and round. He's with me for some time now, is a faithful companion which still surprises me. I spend many hours to improvise new techniques on this didge, because this didge let me. Step to detail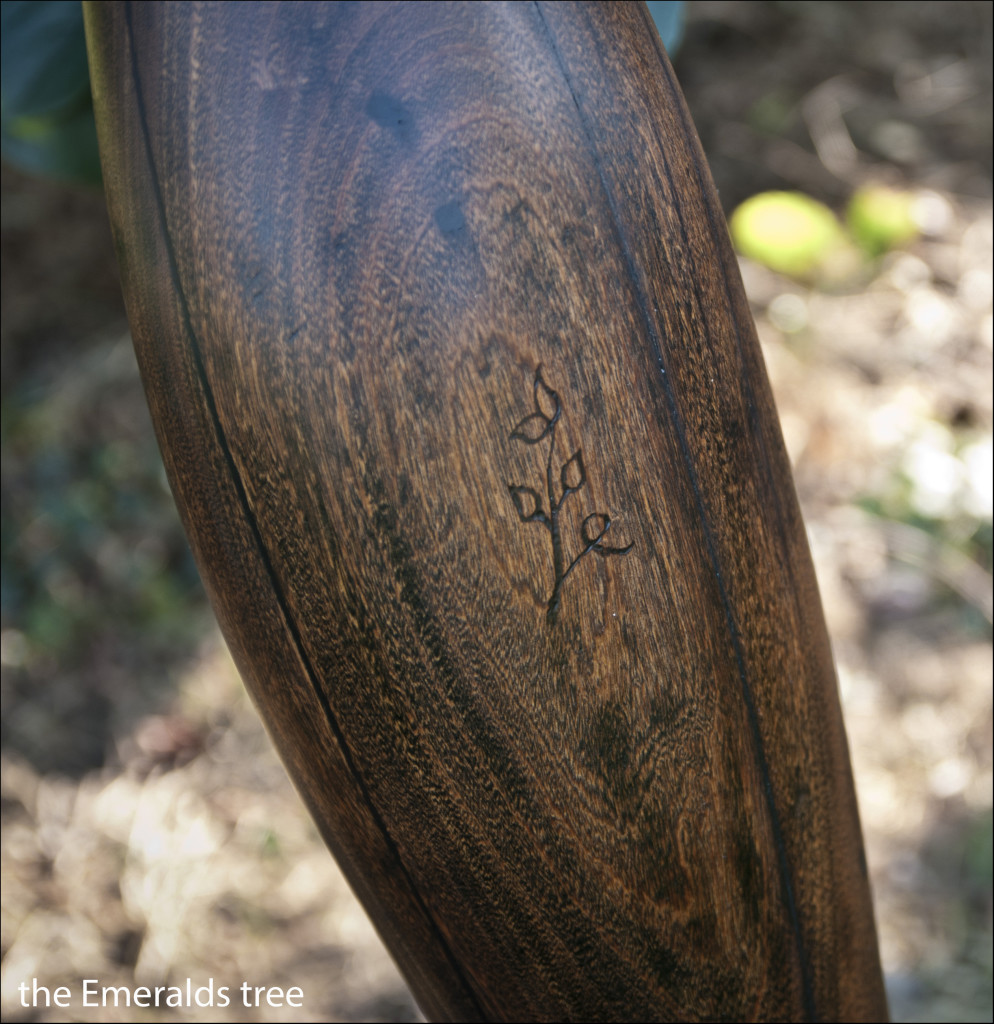 Wood: Tropical walnut
Length: 201 cm
Central drop resonance: 13 cm x 12 cm
Final Bell: 13 cm x 12 cm
Mouthpiece: 30 mm. The shape is flared, specifically designed for maximum ergonomic comfort in improvisation.
Finish: Bell and mouthpiece internally coated with quartz and black resin, great quality and alimentary.
Passerby inlay filled with quartz and tourmaline.
Tone:     C (2) perfectly tuned with diapason A = 432 Hz tuning fork
1° Toot: G#(2)   2° Toot: Bb (3)
The Drone and the first Toot remain in the same octave.
DETAILS: I'd like to do other didge like this one, a piece of lutherie collectible and concert. There are few didgeridoo in the world made with this philosophy and characteristics. The diversity of volume of the drops of resonance, helps to get some particularities:
a sound exceptionally well balanced on frequencies that are normally hidden or overlapped

playability particularly smooth and soft, you hear any sound, even the slightest

you hear more partial harmonic around the main harmonious

the first Toot remains within the same octave of the drone and is played with the least variation labial and diaphragmatic

the innovations resulting allow experimentation with new techniques

is intimately hard to stop playing it.

The measurement with Bovis biometer gave a value of about 13,000 UB, with  instrument at rest.
Sound samples 
Tropical Nux is currently AVAILABLE
Price: DIDGERIDOO Tropical Nux € 500 (with padded case tailor-made)
For the purchase and transport costs, contact us with your name and your address on: info@theemeraldstree.com You will be contacted with the details for payment and shipping as soon as possible.
Gallery
Questo post è disponibile anche in: Italian